Back to
Review Highlights
Customer Reviews
Write a Review
Ask a Question
Filter Reviews:
chain
size
coverage
fabric
hips
body
underwear
rings
Perfect
reviews
02/24/2023
Cat

United States
VERY cute, not a lot of give!
First of all to address something that took me way too long to figure out: the hip chains on these ARE indeed adjustable, but with limitations! They come clipped to the large ring (making the chain its smallest size); however, there are 3 smaller rings in the chain that the clip can hook to, each about one inch apart- and since the hip chains must be adjusted symmetrically or else the while thing sits wildly off, that means you can adjust the chain in 4 increments of 2" or so. Mine fit me perfectly when adjusted to the second small ring, which was a relief. The rub is, the satin material has no stretch at all, so if your ideal size is between two of those points, oh well. I also agree that the front coverage is not great, though since it's supposed to be super low rise it wasn't as bad as I feared after some adjustment (I instinctively tried to wear the chains higher on my hips than they are supposed to lie). For all that I still give it 4 stars because it is SO cute. I absolutely love the way they look!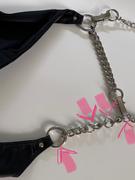 02/23/2023
Sage

United States
Cure- not a fit all
The chain for one is not adjustable. It's pretty short so even though I picked my size the chain was way too small, and you could try and use the decor chain to fit it, but i ended up adding 10 links on each side for it to fit snuggly. Once it fits though, it is SO HOT SO CUTE SO SEXY i really love how it looks on my body, the chain decals are so complimenting.
02/23/2023
Citizen

United States
Super cute
I love the feel of the fabric and the chain detailing. Definitely runs small, I sized up and its perfect. I agree with the other reviews that there is very little coverage in the front though. Overall though its super cute and great quality for the price. If you get it with the satin crop top you can also use the chains there as well.
02/20/2023
Rio M.

United States
Sexy and comfortable
Sexy underwear I love the chain detailing. Super comfortable as well.